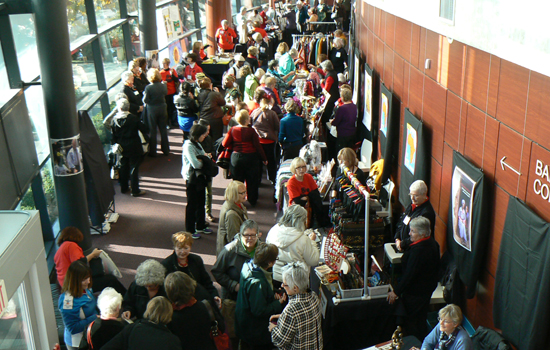 © Greater Van Gogos
Quality Crafts
Members of Greater Van Gogos fashion attractive, quality craft items to sell at events (and to each other!) with proceeds directed to the Grandmothers to Grandmothers Campaign. Some items have an African flavour and some are just plain cute and useful.
One of our bestsellers, tote bags, has become a signature of "the gogos." Several of our groups have tireless sewers who produce totes in a variety of fabrics!
We also have talented women who make an ever-changing array of crafts including bridge aprons, eye-glass cases, sleep masks, knotted scarves, tea cozies, necklaces, wine bags, shoe bags, key chains, luggage ID tags, potholders, book marks and bracelets. Many of our items carry our logo, such as T-shirts, umbrellas, bookmarks, notecards, Christmas cards and waist bags.
Please note that we do not have an online store, however we can put you in touch with groups that sell the items in which you're interested. For purchasing information, please contact us at info@greatervangogos.org.
Here are details on some of the items that our grandmothers groups create and sell in support of African grandmothers. Watch for more products to be displayed here!
View Marketplace