There's a special event coming up this first week of October.
Hand in Hand: Celebrating 15 years of the Grandmothers Campaign
Join us in this online event in honour of the legacy that grandmothers continue to build. Hear from leaders of the grandmothers movement about the progress they've made in restoring long-term well-being to their communities. Learn what bold steps grandmothers are taking to ensure a strong future.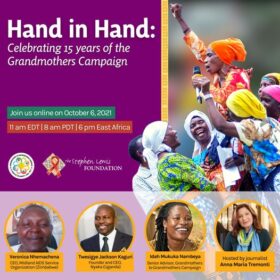 Journalist Anna Maria Tremonti will host conversations with Canadian and African leaders of the grandmothers movement.
Date: Wed., Oct. 6, 8 am PDT
Location: Online
Celebrate with us – it's an event not to be missed! Register now for Hand in Hand.
Upcoming Events
To remain current on our activities between news posts, check our Event Calendar and our GVG Facebook page. Visit our Marketplace to browse through beautifully handcrafted items and other products for sale by our groups.