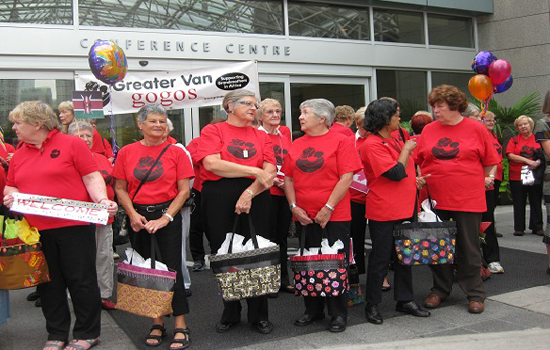 © Greater Van Gogos

Background
The Greater Van Gogos region encompasses a network of groups that began in Vancouver and its suburbs. In March 2006, the Stephen Lewis Foundation issued a call to Canadian grandmothers to stand up for their African counterparts. Shortly after, Greater Van Gogos was launched as one group in the Vancouver area. Before long, the original group broke into more. Our groups often work together, support each other, and are inclusive and welcoming to new members. Our region operates with leadership and without hierarchy. Each group is unique, with members making decisions such as how often they want to meet, what their ideal group size is, how they choose to raise funds and awareness within the context of the Grandmothers Campaign and more. Ours are true "grassroots" organizations!
DOWNLOAD Greater Van Gogos brochure – PDF file
DOWNLOAD Greater Van Gogos postcard – PDF file
Administration
Greater Van Gogos acts as an umbrella to support more than 20 groups registered with the Stephen Lewis Foundation's Grandmothers Campaign. We have two co-chairs who serve two-year terms, a steering committee with a secretary and treasurer, and representatives from six geographic areas called "neighbourhoods". We also have a regional communications team and a speakers' roster, plus we offer speakers' training upon request from groups.
Any registered Grandmothers Campaign group in Southwestern BC is welcome to join us. Group coordinators meet twice a year to share ideas about fundraising and raising our profile, and to continue educating ourselves about the issues facing our African peers. We hold one Regional Gathering per year to which all group members are invited.
Connections
In 10 years, 13 of us have been chosen by the Foundation to travel to Africa to meet some of the remarkable grandmothers who are turning the tide of HIV & AIDS in their communities. We cherish their visits to us when the SLF arranges for them to come to Canada. The encouraging stories from African grandmothers who have risen beyond their grief to rebuild their lives continue to strengthen the bond between us.
Greater Van Gogos groups have raised more than $3.6 million that is directed to the Stephen Lewis Foundation for distribution to community level projects in 15 African countries supporting grandmothers – gogos, shoshos, nyanas, jajas, nkekus – and the children in their care.
All of our groups are autonomous. Not all use "gogo" in their names, but collectively we have become known as "the Gogos." Our "grandmother power" is legendary. We are part of a movement that's evolved beyond the 240 grandmothers groups in Canada.
When the Campaign was launched, we promised not to rest until African grandmothers could rest. Please join us. All are welcome, whether you are a grandmother or grandOther!
For more information, contact info@greatervangogos.org and visit the Grandmothers Campaign website.