A concert not to be missed…
East Van Gogos are proud to present their third concert in partnership with Rogue Folk Club.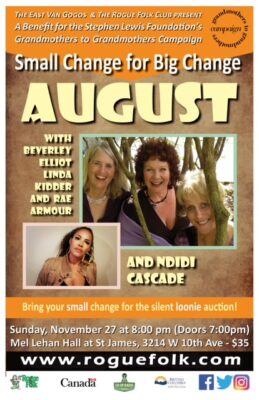 Come and enjoy the witty harmonies of the trio "August" (Beverly Elliott, Linda Kidder, Rae Armour) and the uplifting rhythms of local hip-hop artist Ndidi Cascade.
Be sure to bring your $5/$20 cash to bid on the silent auction items!
Date:  Sun., Nov. 27, 8:00 – 9:30 pm
Location:  Mel Lehan Hall at St. James, 3214 W. 10thAve., Vancouver, BC
Cost: $35; purchase online at Rogue Folk Concert.
Questions:  Contact Wendy at wendycam08@gmail.com.
Upcoming Events
To remain current on our activities between news posts, check our Event Calendar and our GVG Facebook page. Visit our Marketplace to browse through beautifully handcrafted items and other products for sale by our groups.