Calling all cyclists – Register now for Solidarity Cycle!
This is a key fundraiser for the region and the registration deadline for riders is Aug. 12.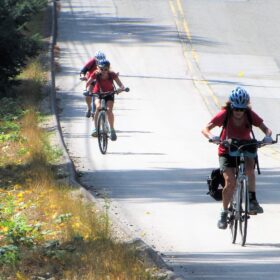 Funds raised will go to the Grandmothers Campaign of the Stephen Lewis Foundation to help support grandmothers in Africa caring for children orphaned by AIDS.
Train now – Join local training clinics led by experienced instructors and learn to cycle safely, longer, stronger, faster.
When:  Saturdays, 9 am; Wednesdays, 6-8 pm.
Location:  Leaving from Queens Park Arena, 1st St. at 3rd Ave., New Westminster, BC
More info or to register:  Contact solidaritycycle@gmail.com.
Cycle Training poster – PDF file
Ride a 50 km or 100 km route on scenic country routes on Sept. 11, returning to a central base for lunch and the finale. There's also an option to ride on dikes with children or grandchildren and set your own distance. The ride is supported and cheering fans will encourage cyclists along the way.
Date: Sun., Sept. 11, 8 am – 5 pm
Location: 13479 Sharpe Road, Pitt Meadows, BC
Cost: $50/adult with jersey or $35/per adult who already has a jersey. Registration closes Aug. 12.
Details and sponsorship: Visit the Solidarity Cycle website; contact solidaritycycle@gmail.com.

Donate – You can support the riders, too! Donate on the event's secure fundraising page managed by the Stephen Lewis Foundation. The donation page will be open through Sept. 11th.
Solidarity Cycle poster – PDF file
Upcoming Events
To remain current on our activities between news posts, check our Event Calendar and our GVG Facebook page. Visit our Marketplace to browse through beautifully handcrafted items and other products for sale by our groups.