Contemporary African Voices returns with its second event…
Award-winning Zimbabwea writer, Siphiwe Gloria Ndlovu, will discuss her novel, "The Theory of Flight". This young novelist will be in conversation with Garvia Bailey, former CBC host, with Q&A to follow.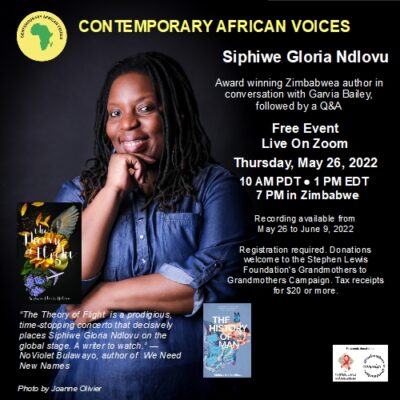 We can come to know a country by reading its authors. As volunteers with the Grandmothers Campaign groups in Canada, we are keenly interested in knowing the stories of the 15 sub-Saharan African countries where the Stephen Lewis Foundation partners work. At this event, we will be hearing from an author from one of those countries. Register
When: Live On Zoom on Thurs., May 26 -10 AM PDT/ 1 PM EDT/ 7 PM in Zimbabwe
To register: Register online at Eventbrite   Note: Book prize draw for early bird registrants! You could win one of 4 sets of both books if you register and submit your entry form here by 12 midnight PDT, Thurs., May 12/22.
To Donate: Go to the Contemporary African Voices secure fundraising page on the Stephen Lewis Foundation website.
Vancouver grandmothers groups hosting this event are: East Van Gogos, Tikun Olam Gogos, VanGogos, and Welisa Gogos.
Questions? Contact vangogos1@gmail.com.
Upcoming Events
To remain current on our activities between news posts, check our Event Calendar and our GVG Facebook page. Visit our Marketplace to browse through beautifully handcrafted items and other products for sale by our groups.