Package includes large, signature tote in a choice of 7 different fabrics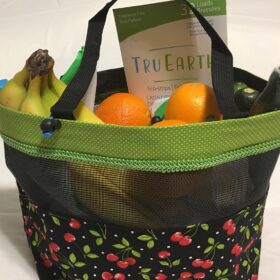 Go green this summer with these eco-friendly packages from Tikun Olam Gogos.
Each package contains…
A large, signature Gogo tote bag with veggie or fruit fabric design – choose from artichokes, green or yellow peppers, stir-fry, hot peppers, cherries, or tomatoes
Four washable and reusable mesh produce bags – 2 medium size, 1 large and 1 small
A package of 32 Tru Earth laundry strips – each laundry strip packs ultra-concentrated, hypoallergenic, eco-friendly cleaning power into a pre-measured strip of liquid-less laundry detergent that you can just toss in the wash; light cardboard packaging
Cost:  Discounted price of $60. (Food not included.)
To order your package and to see the fabric options, visit the Tikun Olam Gogos website. You can also order by contacting tog.craftfairs@gmail.com or tikunolamgogos@gmail.com.
Upcoming Events
To remain current on our activities between news posts, check our Event Calendar and our GVG Facebook page. Visit our Marketplace to browse through beautifully handcrafted items and other products for sale by our groups.