Welisa Gogos is hosting this Jan. 15 virtual Wellness event led by Patti Bishop, Active Aging Coach and Holistic Nutritionist. This 90-minute interactive webinar will focus on both education, nutrition and movement and will be specifically designed for women over 50. Participants will be provided with a wealth of resources!
Cost: $15. Donations of $20 or more will receive a tax donation receipt.
When: 9 am PST, Sat., Jan. 15, 2022 (live on Zoom or on Facebook Live)
To register: Road to Your Best Age 2022
Questions: Contact Welisagogos@gmail.com.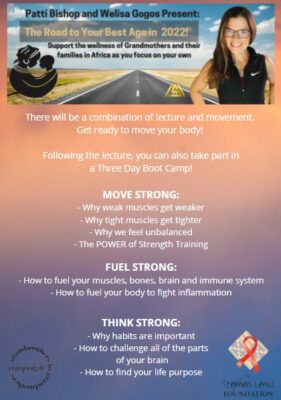 A reminder… Proceeds from all our groups' events are donated to the Grandmothers Campaign, Stephen Lewis Foundation to help support African grandmothers. How do we work? Check out our Get Involved page or contact us!